Timeline of Events in the Posada Carriles Case
January 17, 2007
Posada is transfered to a prison in New Mexico
Dec. 18, 2006
Venezuela solicits extradition of Posada as proof of 'good will.'
Dec. 7, 2006
Chavez asks for extradition of Posada as a part of a new round of negotiations with Bush resulting from the re-election of Chavez.
Sept. 20, 2006
Venezuelan president Hugo Chavez referrences Posada in his address to the UN.
Oct. 2005
At the XIVth Ibero-American Summit in Salamanca, Spain, the final demand to extradite or judge Carriles is declared.
Sept. 28, 2005
US announces that Posada will not be deported to Venezuela due to the possibility of torture. (The Venezuelan government reacts by point out the "double standard in [the United States'] so-called War on Terror." (BBC))
Aug - Sept. 2005
Immigration trials held in Texas with the US Dept. of Homeland Security
August 29, 2005
Posada's immigration case has a hearing before a Homeland Security judge in Texas on charges of entering the country illegally, but judges rule he cannot be deported due to the 'threat of torture' in Venezuela. U.S. denies Venezuela's extradition request.
July 20, 2005
Lawyers for Posada ask the immigration judge to throw out the government's evidence against Posada, claiming it's based on hearsay and media reports. Attorney Eduardo Soto also argues that Posada is suffering from a relapse of skin cancer and has a worsening heart condition.
June 21, 2005
A Texas judge refuses to transfer Posada to Florida.
Posada's immigration hearing before a Homeland Security judge in Texas is set for August 29th.
June 16, 2005
Venezuela submits a formal request to the United States for the extradition of Posada.
June 13, 2005
At his immigration hearing, Posada renews his request for political asylum in the US.
Posada's lawyer Eduardo Soto asks the judge to transfer Posada to Miami, where he can be closer to his family and lawyers.
May 19, 2005
Posada is charged with illegal entry into the United States and held without bail. His immigration hearing is set for June 13th.
May 17, 2005
Castro leads thousands of Cubans in a 'march against terrorism' to call for the arrest and extradition of Posada.
Posada skips an interview with Homeland Security regarding his asylum case and instead meets with Miami Herald journalists.
Posada withdraws his application for political asylum and his lawyer claims he might leave the US and return to his life in hiding.
Posada is arrested in Miami and taken away in a helicopter. Homeland Security now has 48 hours to charge Posada and to determine his status.
May 11, 2005
Posada holds a secretive two hour meeting with Miami Herald journalists
May 5, 2005
CIP releases a press statement regarding Luis Posada Carriles.
May 3, 2005
Venezuela issues a statement saying their Supreme Court approved plans to formally ask for Posada's extradition.
Roger Noriega, the top State Department Official for Western Hemispheric Affairs, expresses doubt that Posada is even in the US
Mid-April, 2005
Posada's Lawyer, Eduardo Soto, announces plans to petition for asylum. Cuba and Venezuela call for extradition.
March 22, 2005
US announces that Posada will continue to be detained on grounds of presenting a danger to the community and a flight risk.
Mid-March 2005
Posada enters United States. (He claims he crossed the Mexican border via a migrant smuggler and took a bus to Miami. However Castro claims Posada's longtime friend, Santiago Alvarez, picked him up at the Isla de Mujeres, Mexico with his shrimp boat and smuggled him back to the US)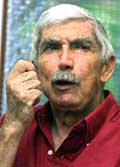 Luis Posada Carriles in 2003
(AP file)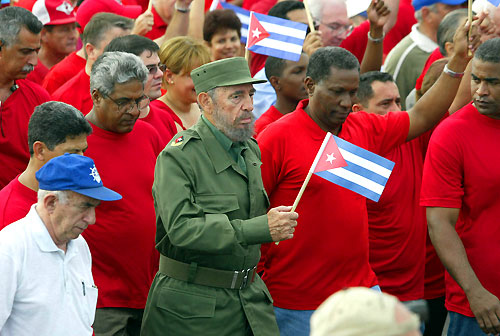 Anti-terror march in Havana (AP/Jorge Rey)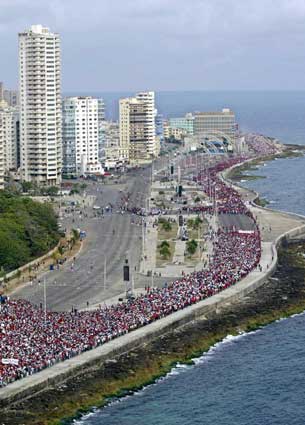 Thousands join in Cuba protest
(Getty Images/ Ismael Francisco Gonzales)